---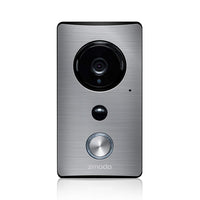 Sale
This item is discontinued. See The Deal Guy's latest home camera recommendation here
Answer your door, wherever you are - the Greet Wi-Fi video doorbell from Zmodo that will make sure you never miss another visitor. 
See, hear, and speak to your visitors on your smartphone, whether you're at home or on the go. Tell the delivery man to leave the package at the door, and ward off potential burglars looking for an empty home by answering your door from wherever you are. With HD video, smart motion detection, real-time alerts and cloud playback, it's like you're at home, even when you're not. The Greet is certified for outdoor use so you'll never have to worry about your unit being damaged by heat, humidity, rain, sleet, or snow. 
How it works
A visitor rings Greet.  You receive a call on your smartphone.

While viewing the video feed from your doorbell, you decide whether or not to answer the call.

If you miss or ignore the call, Greet will play a pre-recorded voice message to your visitor.
Motion Detection Recording - Don't miss another moment.
Greet automatically records a 30-second motion detection video clip to its built-in 8GB memory, even when the doorbell hasn't been rung. With mobile alerts activated, you receive instant alerts on your mobile device when motion is detected so that you can see what's happening. You can also share your device with family members, so that multiple users can receive alerts and calls.
720p Wide-angle Live View on Zmodo App
Setting up Greet doorbell with Zmodo app in seconds, you will get a 720p HD live view. The doorbell's camera is manually adjustable, allowing you to get the angle of your visitors. It's specially designed to show you a vertical HD image so that you can talk to and see visitors of any height.
Customize Voice Message and Sharing
For the time when you are too busy or not able to answer the door, record a voice message previously and Greet will play it after someone rings it. Share your doorbell with your family member's accounts. Easily enable and revoke sharing access for house sitters or baby sitters, so that they can help secure your home while you're away.
Smart Night Vision and Two-way Audio
Improved night vision function allows you to manually switch on the night vision mode based on different light strengths to make sure you have one of the best views even in a dim environment. Simultaneous two-way audio allows you to communicate with people at the doorbell end smoothly.